July 16th, 2020 at 10:30am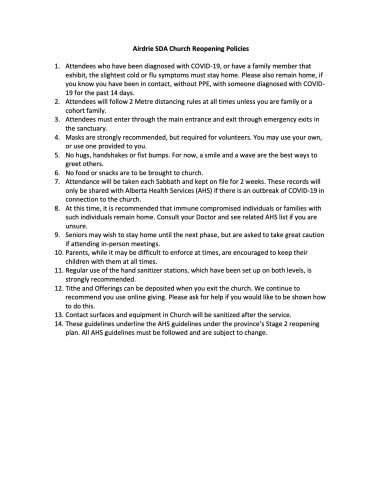 June 18th at 5:00pm
Reopening Update: On Tuesday, June 16th, our Church Board met to discuss our Church's reopening plan in light of the Alberta Government's Stage 2 Launch on Friday, June 12th.
The board has voted on the following two phased approach to bring us back to in-person worship services as of Sabbath, August 1st, 2020:
Phase One
Church Office hours resume on Tuesday, June 23rd, 2020 (Tues-Thurs, 1-4pm).

This will include a future pick up time of church mail (specific times TBA)  

While awaiting phase two, we recommend establishing family cohorts, in accordance with AHS guidelines, between church members' families. 

This will allow all of us extended fellowship, which can include watching church online together, and even having small group studies. 
Phase Two
The church building reopens for in-person services beginning Sabbath, August 1st, 2020. 

If AHS guidelines allow for it, we would operate, in terms of capacity and programs, as we did before the March closure. 

Social distancing will be practiced (face masks are recommended for when distancing is not optimal and or possible)
Hand sanitizer will be available for use. 
Face masks will be provided for those who do not have their own. 
If you or anyone in your household is feeling, even the slightest bit, ill, please stay home. 
If it is determined we are unable to run our children's Sabbath School programs at the time of reopening, then adult Sabbath School will be cancelled in place of a children's program at 10am. More info on this will follow closer to August 1.
Reasoning Behind Our Decision
While we understand that some may prefer to come together for in person services sooner than this date, there are a number of reasons that lead to the Board's decision. They include:
The time it will take for each ministry to have the required volunteers in place to facilitate our Main Service and Sabbath School classes.
We will not receive complimentary face masks from AHS till, at least, the second week in July.
The Alberta Conference Virtual Camp Meeting (which includes programs for all ages) is scheduled from Sabbath July 17th to Sabbath July 25th (of which our church helped create an evening program for).
We want to ensure that we are able to meet all of the requirements set out by AHS, and ensure that when we do return, our worship time together will be a blessing for all ages.
The Church Board also voted to establish a Reopening Committee to ensure that we are able to reopen safely and successfully. This committee will also discuss plans for, and the feasibility of, relaunching weekly (club and prayer) meetings at the church.
If you have any questions, feel free to contact Anthony Kern, at akern@albertaadventist.ca or by phone, 825-365-3321. 
June 11th at 9:00am
Reopening Update:  In light of stage-2 being implemented, our church boards will discuss setting a reopening date at our next Church Board Meetings. Any reopening date will take time to ensure we have volunteers in place to facilitate worship services in addition to assuring we are still able to follow AHS guidelines.  Stay tuned for more info following our meetings.
March 27th, 2020 at 3:00pm
For the latest Announcements and this week's Sabbath Schedule click here.
March 18th, 2020 at 11:00am
Zoom Meetings:
Sabbath School @ 10am
Sabbath Worship Service @ 11am
Wednesday Night Prayer Meeting @ 7pm
Join us by Computer or Tablet by clicking here:
Or join us by phone by dialling:
587-328-1099 then when prompted, entering the Meeting Id: 634 913 0513 followed by the # key.
You may also join us on Zoom, following the same instructions above, on Tuesdays, Thursdays, Saturday Nights @ 7pm for a brief season of prayer. Where we will simply pray for any prayer requests people may have.
March 18th, 2020 at 10:55am
At Church Office Hours have been suspended.
March 17th, 2020 at 10:25pm
How to Use Zoom:
March 17th, 2020 at 9:40am
Effective immediately, the Airdrie SDA Church Board has has decided to cancel all in-person meetings that are held at the church. This includes, but is not limited to:

sabbath school,
worship service, and
prayer meeting.

Weekly meetings held at the church will be moved to an online platform, Zoom, which can be download for free at  https://zoom.us

For those who prefer, or those without access to a computer, meetings can also be attended via telephone.

Zoom meetings will be held at the following times:

Sabbath School - Saturday @ 10:00 am
Worship Service - Saturday @ 11:00 am
Prayer Meeting - Wednesday @ 7:00 pm
Season of Prayer - Tuesday, Thursday, Saturday @ 7:00 pm (beginning on Tuesday, March 24)

Updates, Zoom instructional videos, and links to Zoom meetings will be posted on the church website at http://airdrieadventist.ca/covid-19
First instructional video updates expected later today (March 17th, 2020).
If you have any questions, comments, or concerns, please do not hesitate to contact Pastor Anthony Kern: