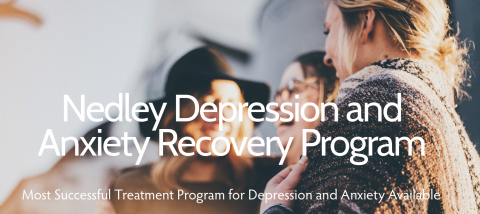 Join the community of thousands who found freedom from depression and anxiety.  Dr. Nedley developed this program to be presented in communities all over the world. It is famous for its well researched, scientifically based evidence and for treating the whole person - mentally, emotionally, physically and spiritually.
Dr. Nedley also has 10 day residency programs that follows the same principles with amazing results. Check it out here: www.depressionthewayout.com
---
     Why it's so successful:
You can overcome depression and/or anxiety

Discover how to achieve a healthy sense of self-worth

Learn coping skills

Find the motivation/concentration to achieve your goals

Help a friend/family member with depression

Prevent depression and and/or anxiety

Gain stress control

Achieve optimal mental health

Learn general health knowledge

Professional development credit available
     Program Topics:
Identify depression and its causes

Lifestyle treatment for depression

Nutrition and the brain

How positive thinking can defeat depression

Positive lifestyle choices

Stress without distress

Living above loss

How to improve brain function
     Who is the program for?
You're struggling with depression and/or anxiety

You have a family member or friend who struggles with depression and/or anxiety.

Want to have a healthy self worth.

Want to learn coping skills and stress management.

Want better motivation and concentration to achieve your goals.

Your desire is to achieve optimal mental health.

Have a desire to learn lifestyle tips to reverse depression and have better health.
Eight amazing life changing sessions you'll never forget!
---
For more information (including program dates, cost, and content):